2016 In Review
In the same vein as my pop culture round-ups — and also as inspired by several friends who share their end-of-year music reviews, book lists, bests and worsts, and so on, and who have helped convince me it's not an entirely insane practice — I decided to share here a reflection of my year. Favorites/most memorables are bolded. Enjoy!
Books Read
It Still Moves, Amanda Petrusich
My Dirty Dumb Eyes, Lisa Hanawalt
Juliet, Naked, Nick Hornby
What Alice Forgot, Liane Moriarty
Half-Broke Horses, Jeanette Walls
The Paris Wife, Paula McClain
The Sun Also Rises, Ernest Hemingway
Flying Shoes, Lisa Howorth
Big Little Lies, Liane Moriarty
Norwood, Charles Portis
The Nightingale, Kristin Hannah
Yes Please, Amy Poehler
The Thing About Jellyfish, Ali Benjamin
New Order: A Decluttering Handbook for Creative Folks, Fay Wolf
Find Her, Lisa Gardner
Pink Moon, Amanda Petrusich
Vinegar Girl, Anne Tyler
So You've Been Publicly Shamed, Jon Ronson
Harry Potter and The Cursed Child Parts I & II, JK Rowling
Where Am I Now?, Mara Wilson
Bossypants, Tina Fey
The Clasp, Sloane Crosley
People of the Book, Geraldine Brooks
Books Collected/Not Yet Read
This is inspired by Nick Hornby's Believer column, Stuff I've Been Reading. I guess this is what I have to look forward to reading in 2017!
Victory Over Japan, Ellen Gilchrist
The First Collection of Criticism by a Living Female Rock Critic, Jessica Hopper
Doolittle, Ben Sisario
The Goldfinch, Donna Tartt
The Bell Jar, Sylvia Plath
About a Boy, Nick Hornby
The Good Inn, Black Francis
I'm Just a Person, Tig Notaro
Alphabetter Juice, Ray Blount Jr.
I'll Go Home Then, It's Warm and Has Chairs, David Thorne
How To Be A Woman, Caitlin Moran
We Should All Be Feminists, Chimamanda Ngozi Adichie
Bad Feminist: Essays, Roxane Gay
Ham Biscuits, Hostess Gowns, and Other Southern Specialties, Julia Reed
State of Wonder, Anne Patchett
The Partly Cloudy Patriot, Sarah Vowell
Other Things I Enjoyed Reading
Three issues in the Archie comic reboot (!)
Excellent writing in Oxford American and The Atlantic
Back issues of The Believer
Excerpts from Speaking With The Angel, an anthology of stories edited by Nick Hornby
MUSIC
Live Shows
Amasa Hines, Little Rock
Futurebirds, Little Rock
Jenny Lewis and the Watson Twins, Nashville
Cedric Burnside Project, Little Rock
Moon Taxi, Little Rock
Mumford & Sons, North Little Rock
Modest Mouse with The Districts, Shreveport
My Morning Jacket, New Orleans
The Revivalists, New Orleans
Motet, New Orleans
JJ Grey & MoFro, Little Rock
Seratones with Bombay Harambee, Little Rock
HAIM, Memphis
ZZ Ward, Little Rock
St. Paul & The Broken Bones, Little Rock
Grace Potter & The Nocturnals, Little Rock
The Flaming Lips, Little Rock
Saddest Concert Cancellation
Beck's show was rained out at Jazzfest in New Orleans. Cue the tears of a thousand alt rock lovers.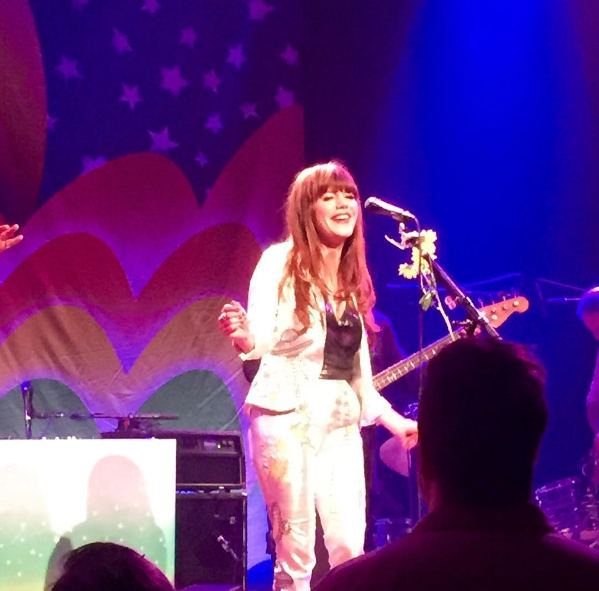 "My Name is Jenny; My Friends Call me Lewis."
— Jenny Lewis, The Ryman, February 2016
Fave New Records
I'll admit that I totally slacked on listening to much new music in 2016 ... but these are the five albums that got the most workout on my turntable this year:
Human Ceremony, Sunflower Bean
No Burden, Lucy Dacus
The Token, Elise Davis
Absolute Loser, Fruit Bats
Daybreaker, Moon Taxi
THEATER
All of these were at The Rep in Little Rock unless otherwise noted.
Peter and the Starcatcher
An Evening with Rebecca Wells and the Ya-Ya Sisterhood
The Bridges of Madison County
Bill Clinton Hercules
Second City
Windfall
Spamalot
The Crucible
Waitress (Brooks Atkinson Theatre, New York City)
A Christmas Story
Book of Mormon (Walton Arts Center, Fayetteville)
TV + FILM
Mr. Robot
The Leftovers
Veep
Better Call Saul
Children of Men
Portlandia
Bob's Burgers
Show Me A Hero
Stranger Things
The Night Of
Master of None
Amanda Knox
Steve Jobs
La La Land (so good.)
TRAVEL
I got to play tourist way more than usual in a typical year, partially owing to friends having out-of-town weddings in some amazing cities. Looks like there will be plenty more of that in 2017, as well!
Memphis, Tennessee
Brooklyn and Manhattan, New York
Cheers to the new year!
xx Steph